Safe water for homes, facilities and buildings
Our household filtration products include modules for shower heads, faucets, undersink applications and whole-house water treatment. Filter modules with capacities of 10~33 l/min are available bacteria rejection in the drinking water supplies of hospitals, hotels, nursing homes, schools, hostels, private homes and other water supplies in the public arena.
The excellent biological rejection rates of our high-performance membranes in conjunction with the very high flow rates of our modules are ideally suited for cost-effective and efficient water treatment.
Filter can be fitted with any NOK membrane plus free of tooling charge! short production lead times for most modules.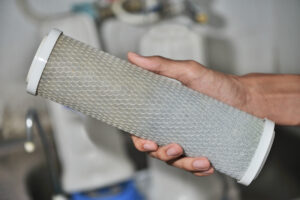 Public water utilities should provide drinking water of good quality. However, through repairs, renovations and new connections, contamination can be introduced into the pipeline system. For those with well water or other source water, the pollution loads, especially in the case of bad weather, could be even higher.
In hot water heaters, sporadic water use creates an increased risk of biofilm formation. This may result in bacterial growth and implies the risk that immuno-compromised people may fall ill. Our log 7 membranes can eliminate such risks.